---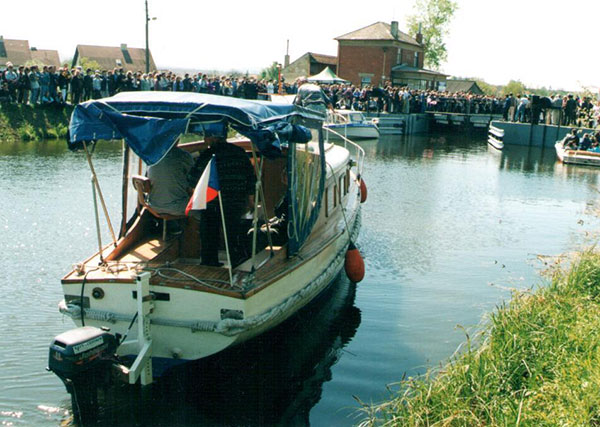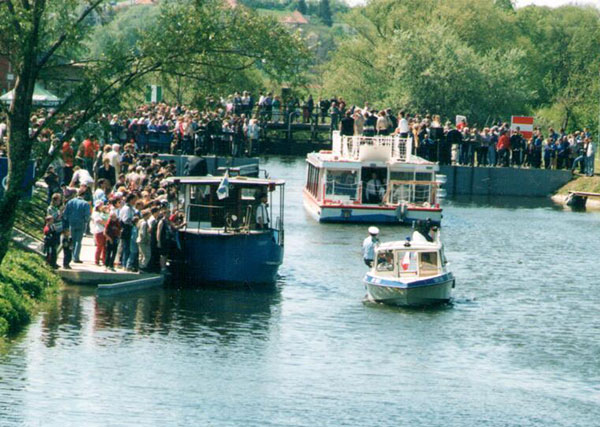 Unlocking the Baťa Canal in Petrov
Tomáš Baťa junior opens the last reconstructed lock in Petrov
In 2002, the new passenger motor ship "Konstancia"was put into operation. The construction of this ship began as part of the project Imagine Action, and it was finished with considerable financial contribution of the City of Hodonín.
The project "Have a Date with Europe" allowed the foundation to search for possibilities of interconnecting the water tourism with private accommodation, Great-Moravian cultural traditions, and a traditional homemade product - Slovácko plum brandy.
A new unit - Motorboat-Hire Office started business in Staré Město.
The advertising strategy changed – the importance and necessity of visitors' sensitive approach to natural wealth along the waterway, and the values of the Baťa Canal as a technical and cultural monument began to be emphasized.
In cooperation with the Slovak city of Skalica, the project Forum Pomoravia began to be implemented; the final objective of this project is to open Slovak landing places in Baťa-Canal international waters.
The quantity of visitors increased to 39 200.
In that year, tourists were offered many types of programmes: individual hire of motorboats, canoes and kayaks, cruises for groups with different programmes (school trips, trips for seniors and companies, team building, beer and wine cruises), houseboat hire for several days, and regular Sunday cruises according to time schedule for the public.
The waterway began to be supplemented by various tourist attractions - restaurants and snack bars, a wine shop, a stud, an observatory, wine cellars etc.

---